Paris! Who would not want to have a layover in the most romantic city filled with attractions like the Louvre, the Eiffel Tower and so much more? Well, today, we are going to talk about 'layover' not just in Paris, but all the advantages and challenges that comes with it in general.
We have been traveling to Europe for a decade now and have been to Paris 4 times. This time, when Paris became a layover option on our way to Milan, Italy; we felt knowing enough about Paris should allow us to do a quick side trip rather than just waiting 8 hours at CDG (Charles De Gaule International airport).
Oh boy, you're in for a few challenges when doing your research on getting to Paris from CDG and to get to the attractions to visit! Before we get into the details I would like to clarify 2 important things.
First, if you are able to follow the expensive route and have enough time, you can take a taxi/limo service (or book one online) from CDG to a specific attraction in Paris. For a 2 person trip this way it can cost between 200 to 300 euros and while it may not be as fast as the train, it will be hassle free.
Second, for the attractions to visit on a short layover (6-8h) the Louvre is the best choice . Maybe because the last time you went, you did not finish the Denon wing and you would like to stare more at the Liberty Guiding the People painting or take more pictures of the Winged Victory of Samothrace, or you realize taking a boat trip on the Seine river and visiting Eifel tower will take quiet a bit of walking, waiting in line and have to account for the trip back to the station to travel back to the airport. The Louvre and its surroundings give you a great way to quickly visit the center of Paris, grab a quick bite and enjoy some of the great masterpieces in an air conditioned tourist friendly environment.
Planning
The below guidelines would be very helpful to make your layover a little easier, not walking around looking for the train station and where to leave your luggage, because believe me – you will be walking a lot when you get to Paris.
We had about 8 hours to spare in Paris. We wanted to freshen up first, use the bathroom – maybe brush my teeth and eat a little bit. Our plane landed in the morning, around 10 AM and we wanted to spend around 4- 5 hours in the Louvre. I wanted to see some artworks I didn't get to spend more time with the last time we were there. My husband, being very particular – bless his heart, already researched left luggage in Charles de Gaulle Airport, how to get to Paris using the train (we did use the bus before, a slower option, but not the train).
Airport Hotels/YoTels
We have Priority Pass through Hilton so we use that at Airports when we can, and when we have a few hours to spare – to rechrge our phones, use the bathroom and maybe drink wine or take a shower. There are showers on some of them. This time we needed to freshen up from Atlanta to Paris plane ride overnight. Usually International Terminal is 2E at CDG (Charles de Gaulle) so you have to take the CDGVAL – or the transit to get out of the International Terminal. You will want to refer to the map above. You will get off at Gate L in Terminal 2E and look for the "Hotel" signs.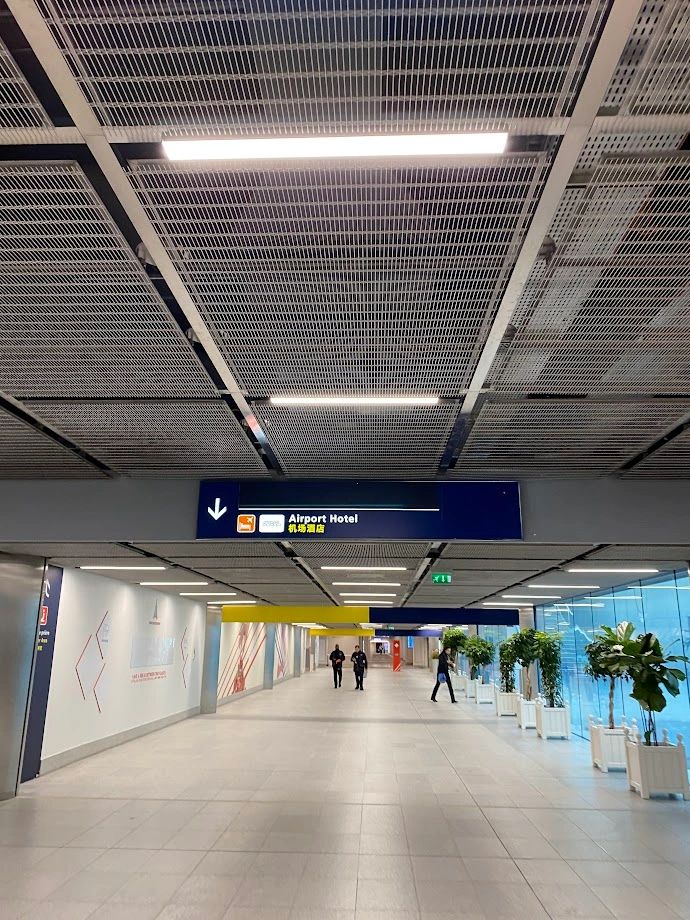 We used YOTEL because we did not want to stay long, we just wanted to freshen up. It was full, and it was not much. I wanted to take a shower but the lady in the counter said there was a waiting list. They only have 3-4 bathrooms, so we had to be in line on that too. There were not much seating because it was full. There were free beverage and water, etc but that was about it – the other items you have to pay to get. It was a little bit of a disappointment, but hey – we're not there to stay. After freshening up and repacking our backpacks, we needed to put some bags (our computer bags) for left luggage.
Left Luggage
Left luggage is a great way to travel light and not having to worry about constantly keeping an eye on your valuables like laptops, other electronics in the busy streets of Paris. We picked a left luggage location near the train station next to CDG so it's convenient to pick up the left luggage and go straight to the departing gate. Once you get out of the airport, by the terminal entrance, right by the entrance doors, turn left and start walking towards the train station.
Keep walking and mind the signs… Usually it's above you, left and right. 🙂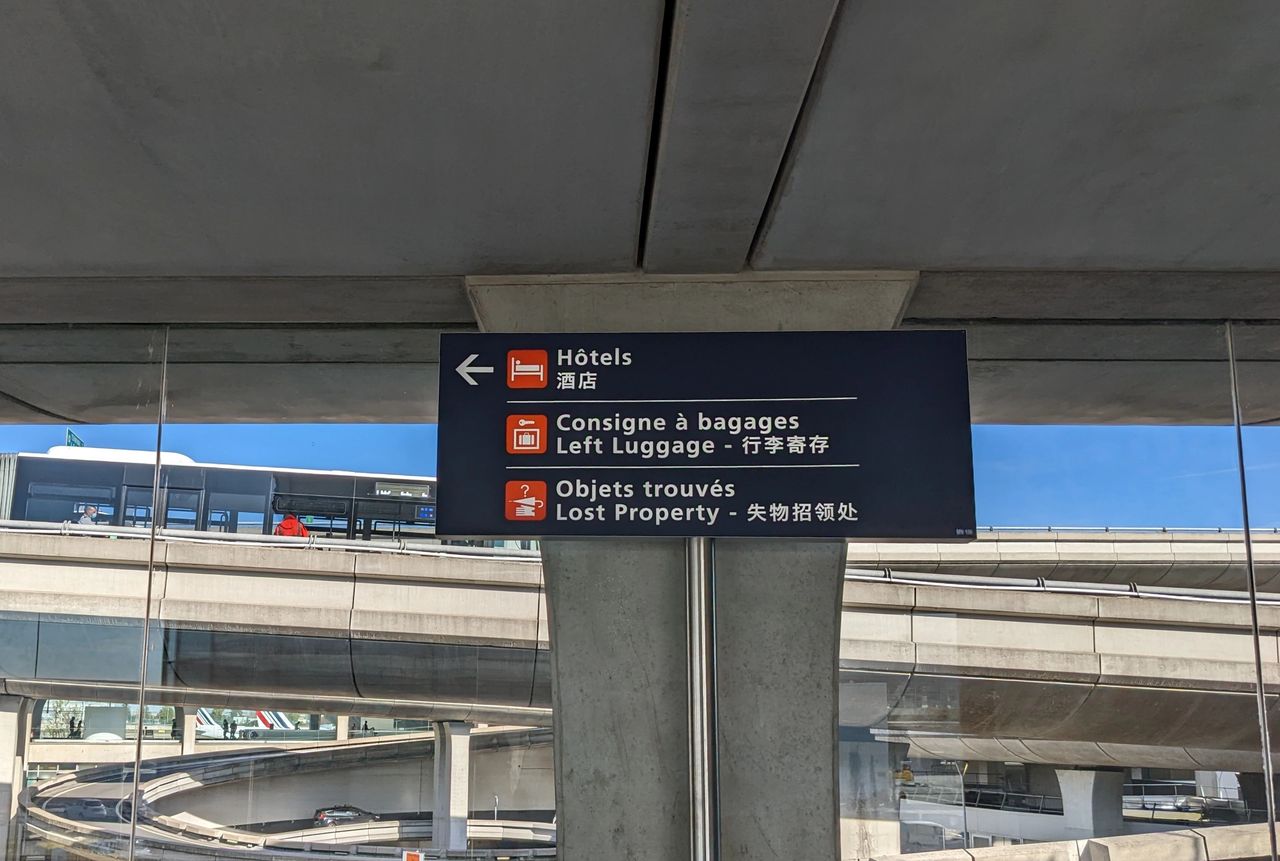 There you see the Left Luggage sign! Keep walking until you get to main station with the elevator going down. Look around and you'll see this Luggage Store. They also do Left Luggage.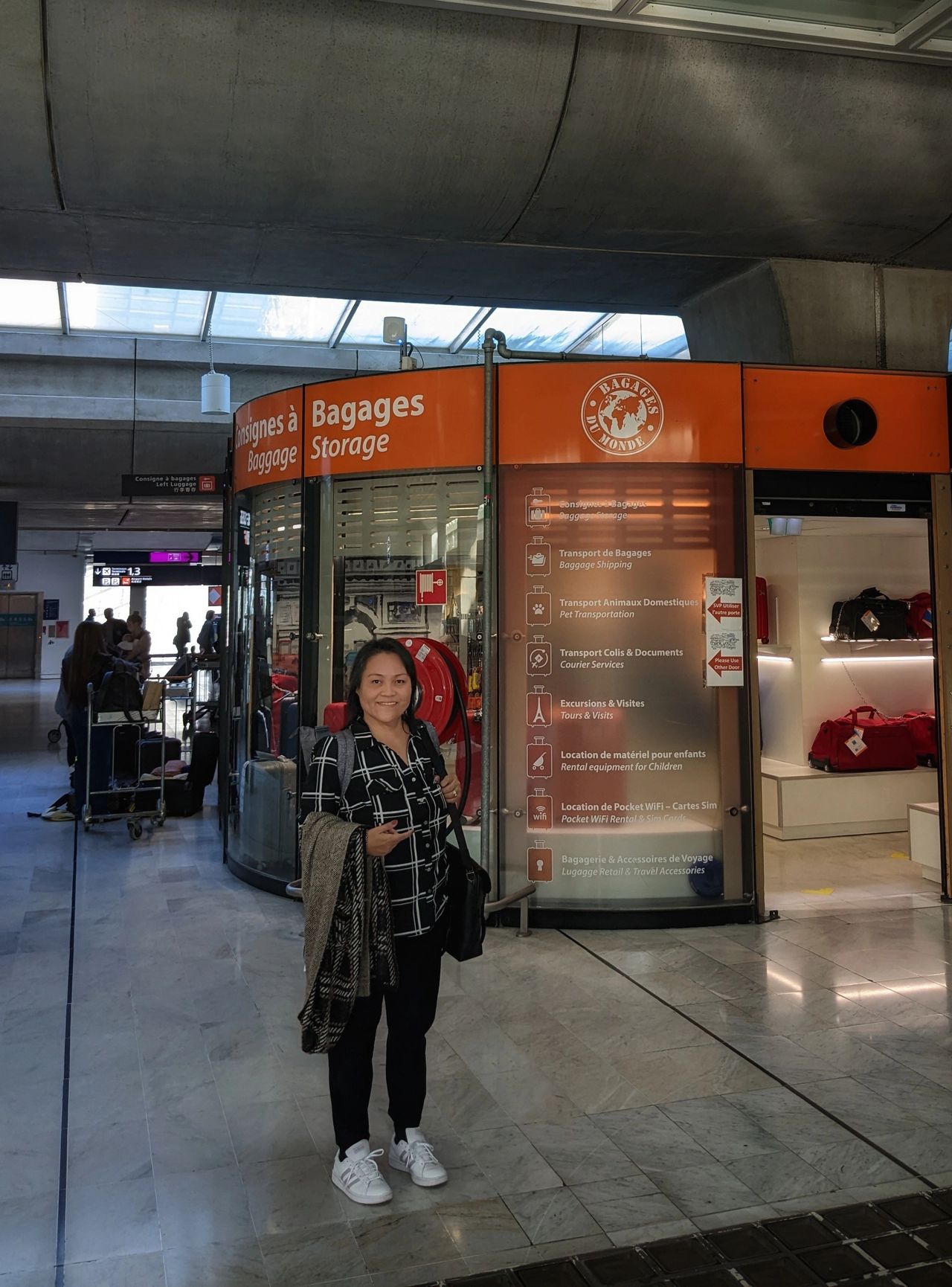 To my "right" – yes, from where I'm standing and facing, where this photo is is taken – is the big sign, information sign that should tell you where to go. Once you check-in the luggage, make sure to keep the receipt/tag in a safe place, preferably with your passport/boarding pass so you always have access to it. You will need this tag to retrieve the left luggage once you return from Paris.
Train to Paris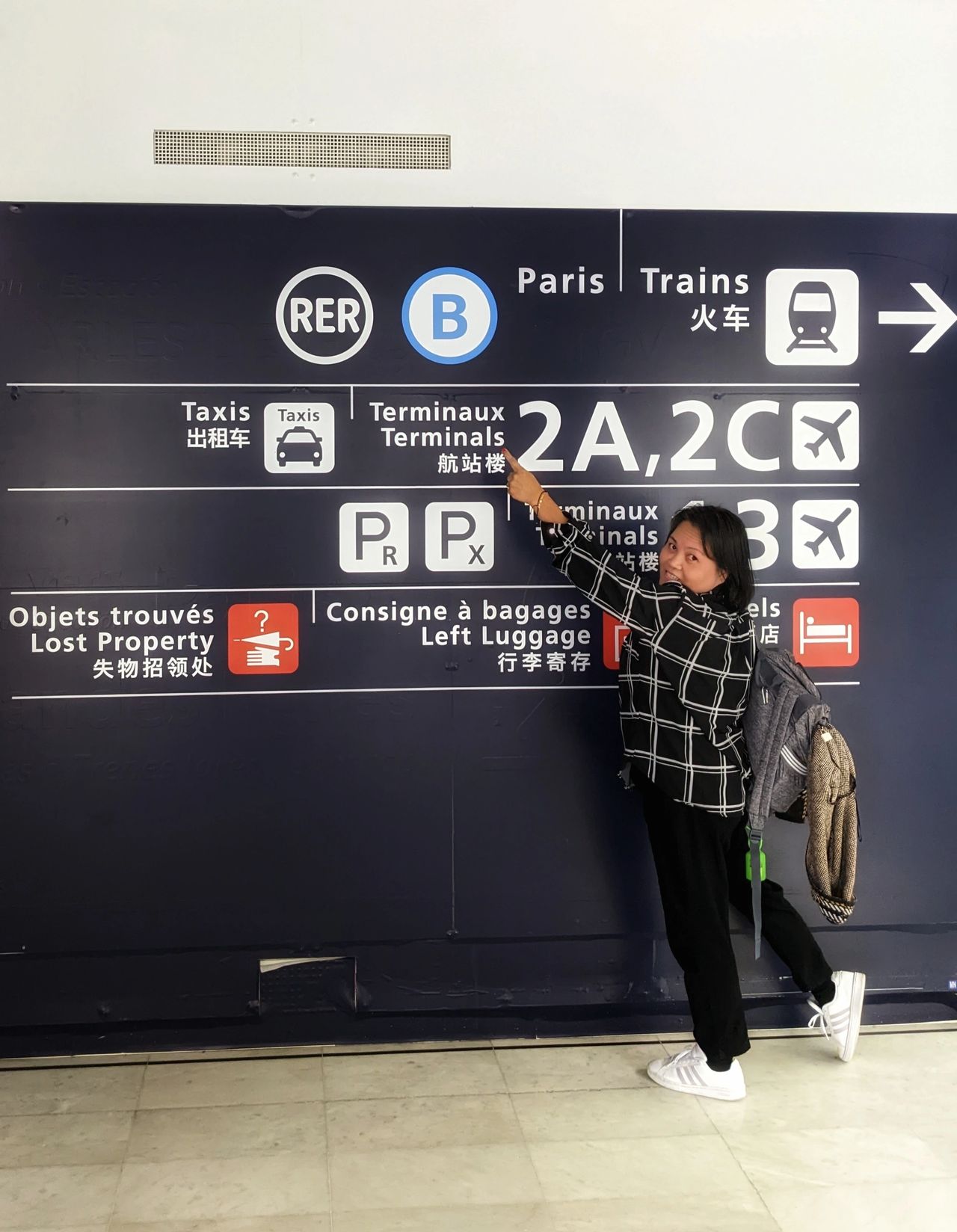 Remember RER B, it's the train line that has direct access from CDG Airport to multiple attraction stops in Paris. The ticket booths/machines are downstairs. Take the elevator or stairs.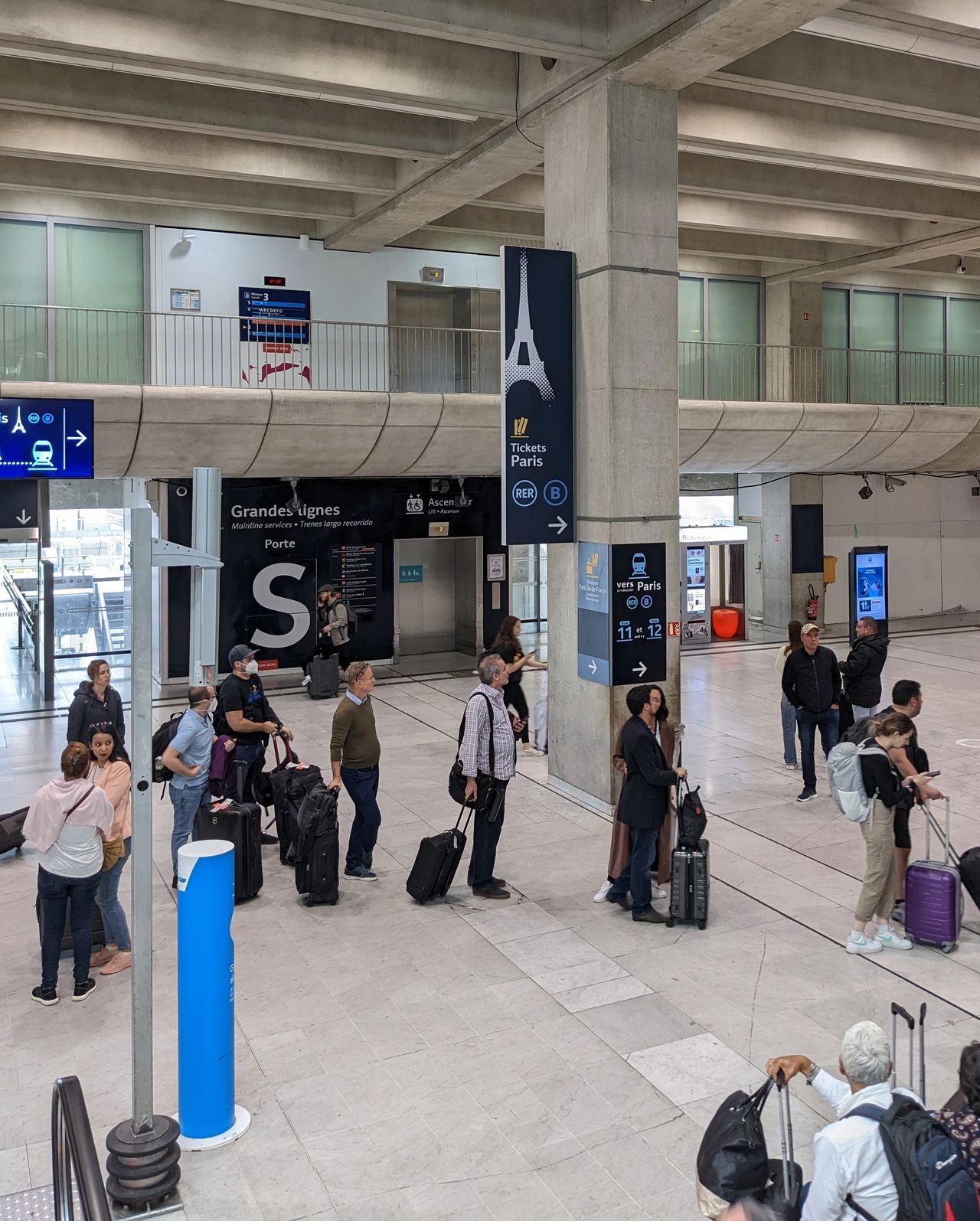 Do not worry. There is an attendant there to help you. And PLEASE do not hesitate to ask, I don't know about you but I'd rather ask with my broken French that to get lost and walk around for 20-30 minutes not knowing where to go. When we got to the train we looked at the stops. Since we were going to the Louvre, we are getting off at Chatelet-Les Halles. Then we still have to walk about 10-15 minutes to the Louvre.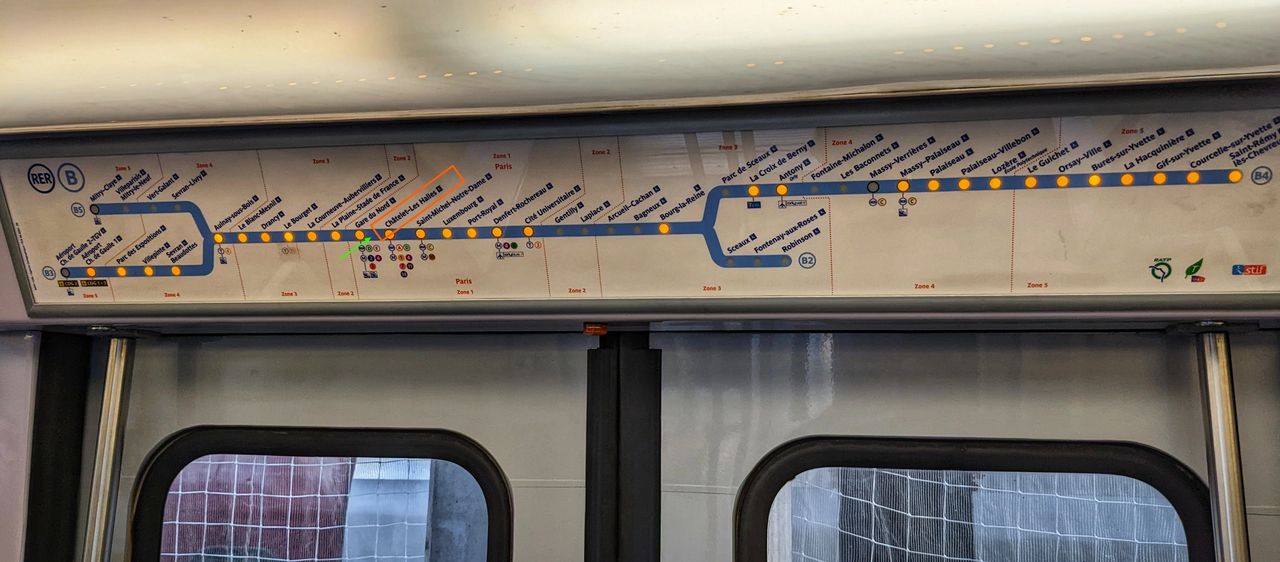 It took about 35-45 minutes to reach our stop, Chatelet-Les Halles. Once we're out, we had to look at the signs which exit goes to the Louvre, thus this photo below.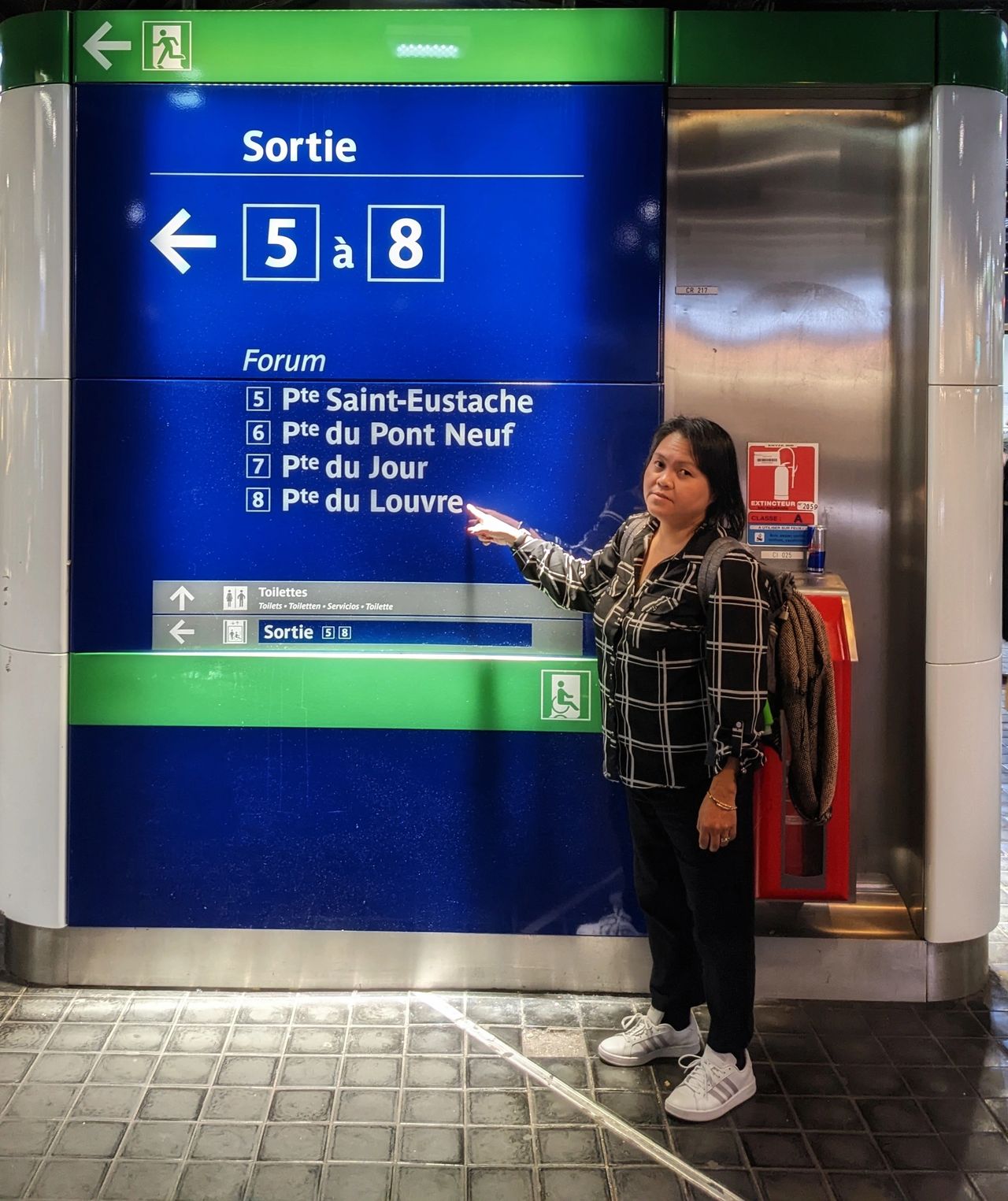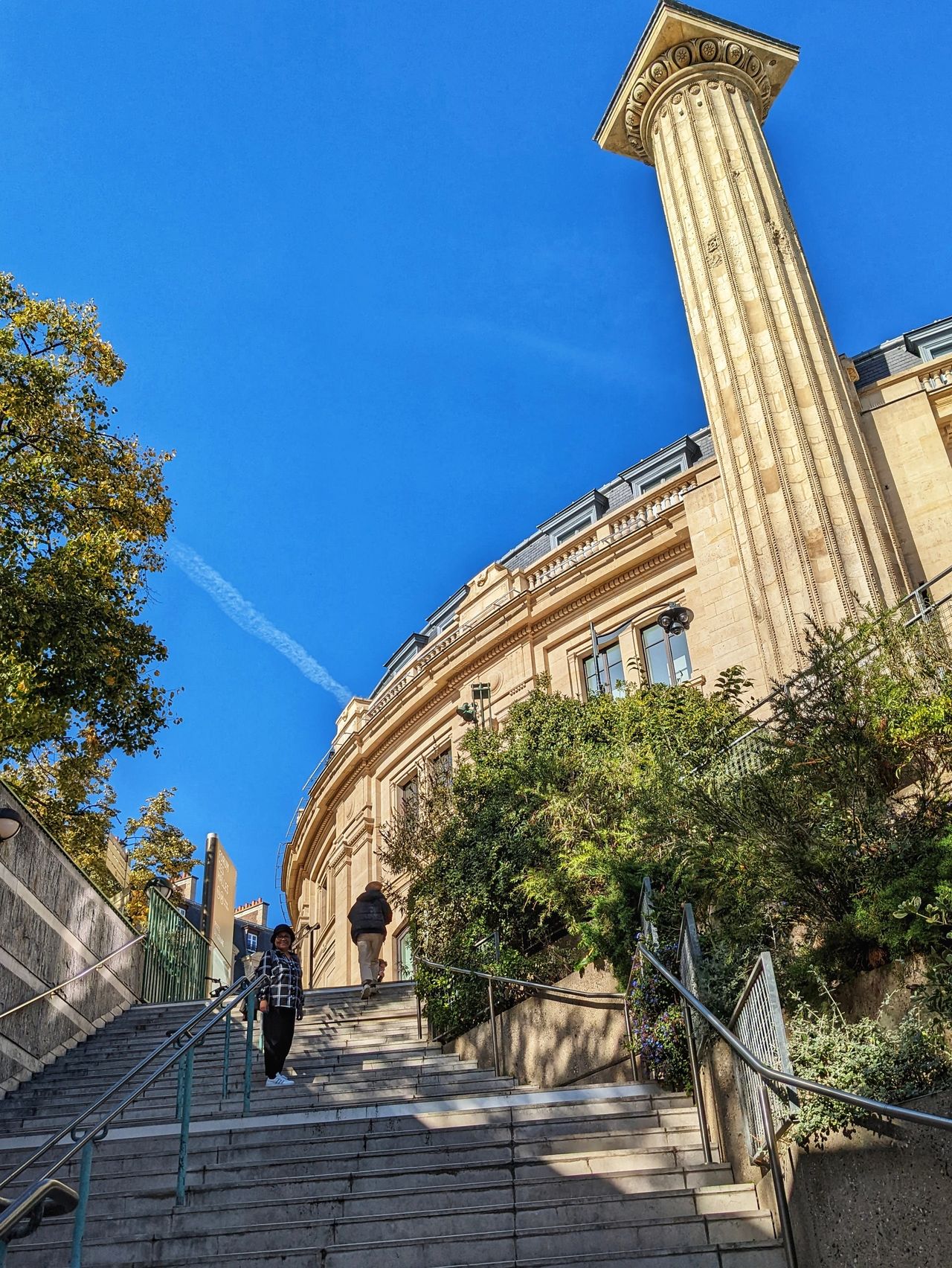 There is a shopping mall you can go through on your way out of the station to reach the street level. This is more comfortable and has some nice shops and a food court as well. There are signs as well on the street which direction is going to the Louvre and to other places as well. Or you can get your google maps and crank up your walking navigation to the Louvre. 🙂